We have made some changes in order to ensure everyones safety and to comply with the guidelines of the Colleges and WorkSafe BC.
Community And Clinical Services
At Reactive IM, we help our patients with both community and clinical services. We provide our Physiotherapy, Chiropractic Care and Massage Therapy in our clinic located in Fraser Heights, Surrey. We also provide occupational community based occupational therapy, active rehab/kinesiology, from Whistler to Abbotsford. We are headquartered in Canada and have been helping people enhance function and restore their independence since 2001.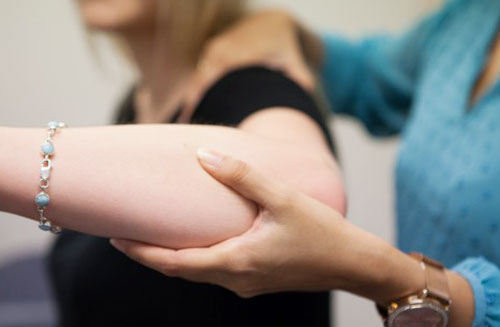 I was critically injured in an MVA, 11 fractures from ribs to pelvis, the Team at Reactive IM helped me from the moment I got home from the hospital. They delivered wheelchairs, walkers, crutches, and canes and the staff to teach me how to use them and encourage me. They ensured I was using the best posture, and the team has delivered unparalleled in-home physiotherapy, a Kinesiologist who has assisted in my rehabilitation from the pool to walking with outstanding posture today.
Also, when I returned from work, they sent an Occupational Therapist to set up a stand-up station, which I will likely require the rest of my life. The rehab Team also delivered a psychotherapist who is assisting me in dealing with many psychological hurdles she worked alongside the Occupational therapist to ensure that my return to work program was altered to prevent a total meltdown, which likely would have set me back.
The team at Reactive IM has been instrumental in making my rehabilitation as quick yet thorough as possible, I love my work and was extremely anxious to get back, and they did everything possible to make my wishes come true!
Peggy H., -Client

After a severe car accident, I worked with Shawna for over two years towards rehab and physical recovery two to three times a week. Shawna was encouraging and tailored our sessions on my physical needs, daily pain level, and level of emotional frustration. She was encouraging, supportive, and also challenged me to push myself towards recovery. I would highly recommend her!
Christie H – Client

Our firm is pleased to recommend Reactive Injury Management, whom we have been working with for a few years now. It would be an understatement to say that we have experienced excellent service from start to finish. They have always provided us with prompt and professional service when it comes to assisting our clients to reach their functional goals. We would certainly recommend them to anyone that needs their services.
Rani B., Legal Assistant

I saw a Kinesiologist at Reactive IM from injuries related to a motorcycle rear-ender. I found the strengthening exercises and general routine beneficial for returning to the gym and strengthening the injured area. I liked the structure and organization of the stretching and strengthening as I worked it into my routine.
Chris B. –Client

In 2006 during a training ride for my 2nd Iron distance triathlon, I was hit by a car… This set me in a different direction than I had ever experienced before. Managing the injuries, the emotional impact of the accident, and the changes that needed to happen for my family to function with my altered physical condition was incredibly overwhelming.
There were countless appointments, and there were many times I didn't even understand what the purpose of it was…myself, and my family needed to have a point team to guide me through rehabilitation.
This is when I was put in front of Reactive IM for both a Kinesiologist and my Occupational Therapist; the team offered me the practical support through the return to measured physical activity, cognitive support with learning tools to regain my confidence and ability to function with daily tasks.
A steady stream of knowledge and encouraging feedback to help me believe I could return to my previous physical condition. Reactive IM supported the months of emotional ups and downs; the team helped me to organize the necessities for my family and guided me through a long rehabilitation then providing me with the plan to keep rebuilding once their role was complete.
Three years after the accident, I participated in a local triathlon and have since returned to full distance triathlon faster and stronger than years before! It takes a team to believe in you to accomplish that!
Thank you to both Paula and Shawna at Reactive IM!
Tammy H., Client and Iron Man 2013

In 2008, Catalyst Paper's Surrey Distribution Center started working with Reactive Injury Management regularly. They have been invaluable in providing a liaison between our material handlers and their health care professionals that have reduced their time away from work due to injury. They have also been instrumental in providing a basis for modified duties through analysis and interpretation of our Job Demands, which has served to reduce our Work Safe BC Lost Time claims greatly. Thank you, Shawna and your Team!
Darcy A., Safety and Facilities, Catalyst Paper

Very professional team! Always paying close attention to the patient while working out. I highly recommend them, especially if the injury is serious. Shawna is a very positive and professional Kinesiologist. She paid close attention to where my aches and pain are, and she created a particular program that makes me progress weekly in a very safe manner. I would not hesitate to recommend Shawna to any of my colleagues of friends. I can only thank her joyful, patient, curious and caring personality
Nathalie L., Client

Reactive IM has been working with the White Rock/South Surrey Stroke Recovery Group for 6 years. We are very fortunate to have their knowledge and expertise to help our stroke survivors. The White Rock/South Surrey Stroke Recovery Group meets twice a week, and the members vary in age from 40 to 90. All of them are at various recovery levels from one or more strokes. The benefits of exercise therapy are paramount to our members. Some are in wheelchairs, some with walkers or canes, but they all need therapeutic exercise sessions to assist them in their recovery and to improve their quality of life.
We would not hesitate to recommend Reactive IM to other organizations.
Judith M., Coordinator, White Rock/South Surrey Stroke Recovery Group

My car accident caused considerable neck and back soft tissue damage, and I was affected both physically and mentally. As a young, active person, this was quite worrisome as sports were a big part of my life. My Kinesiologist at Reactive IM helped tremendously in implementing exercises specific to my injuries and by motivating me to push myself to my limits. She knew what she was doing and offered constructive criticism and feedback, which improved my technique and endurance. Moreover, she was personable, laidback, and fun to work with. Highly recommended.
Jon K. – Client